It was hard for me to come up with a name when we were putting together our first barn sale. I wanted a name that meant something and felt that I should include the oaks that surrounded the barn. I love the barn at our property, but a close second are the beautiful old oaks that are scattered around.
There were three main oaks around the barn and we have three sweet children so "Three Oaks Barn Sale" felt like the perfect fit.
And then just a few weeks before the sale (maybe even the week before) a big summer storm blew through our area and the big beautiful oak in front of the barn was broken and no more.
I am not typically a person who gets upset about such things as a broken tree, but my heart was crushed when my kids and I pulled up to the property and found it gone.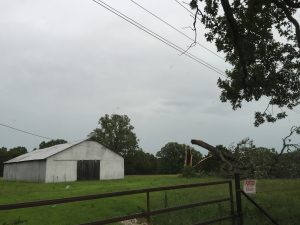 I was even more surprised when I looked in the back seat to find my oldest feeling pretty heavy hearted about the tree as well. As much as it felt like a blow to my dream of the barn sale I knew in my heart it was just a part of life. Things come and things go and nothing last forever. So I turned around and told my children that even though this tree was big and beautiful on the outside it was dying on the inside. It had turned soft on the inside and when a big storm came along it couldn't with stand. I told them that the same is true with the hearts of people. You can look at a person and see them as big and beautiful on the outside, but if we aren't careful our insides can began to crumble and when a storm in life comes along it can break us down and leave us broken. I encouraged them to trust God and let him work inside their heart so they didn't become soft and easily broken as sometimes can happen in life.
My dad always says, "It's a great life if you don't weaken"
And after that, Three Oaks Barn Sale never felt quite right. Obviously we still had three children, but whose to say that couldn't change too.
My husband actually teased that we should name it "the broken oak". Once we started working on the website and logo I decided that there would be no better time to change it so we went for it.
I think The Broken Oak represents the barn much better, but I like the story it tells in my heart even more. Storms will come and go, but they aren't what defines us. They very well could be the inspiration for the next chapter in our life.