Ok friends it is time for the final room of our home tour for 2018. I saved my favorite room for last. Ally's room is by far the the most sentimental room in our house. Each piece tells a story and I couldn't love that more.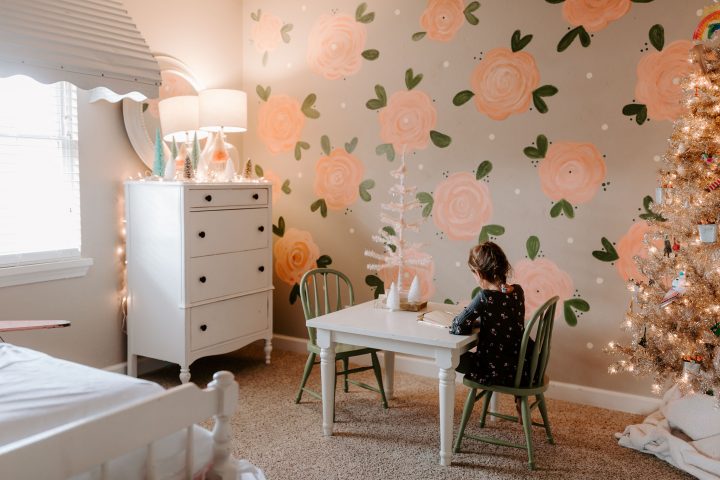 Hands down the number one thing I get asked about in Ally's room is her flower wall. It is not wallpaper, I painted it a little over a year ago. I shared the idea with her and she loved it. It took me months after buying the paint to take the plunge and actually try it. It is safe to say that a year later I love it and even more importantly she loves it even more. She would like for me to do it to her entire room.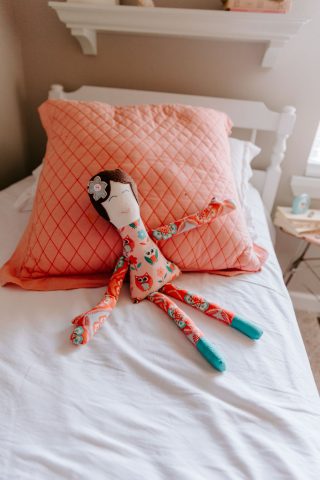 Her bed was my mom's and then mine when i was a little girl. My grandma ordered it from sears and I love that it is real wood.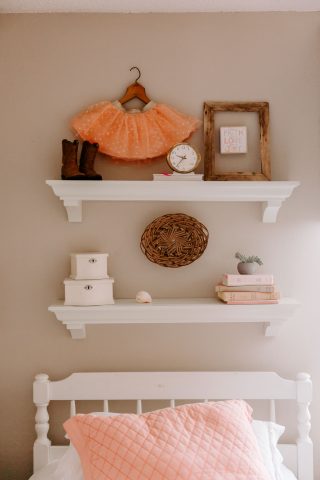 The shelves above her bed are from pottery barn; i bought them when she was a baby. If you know our family very well, you probably know that we almost lost Ally to a drowning accident when she was just 18 months old. The little tutu and boots were part of the outfit she was wearing that day. I was never able to put them on her little body again, but hung them in her room as a reminder of the day God saved her. It was truly a miracle and is such a big part of her story, and ours.
Next to her bed is this little shelf to hold her books and the little hanging jars I made. She loves to read and her night stand is tiny so a shelf for holding extra books is perfect for her.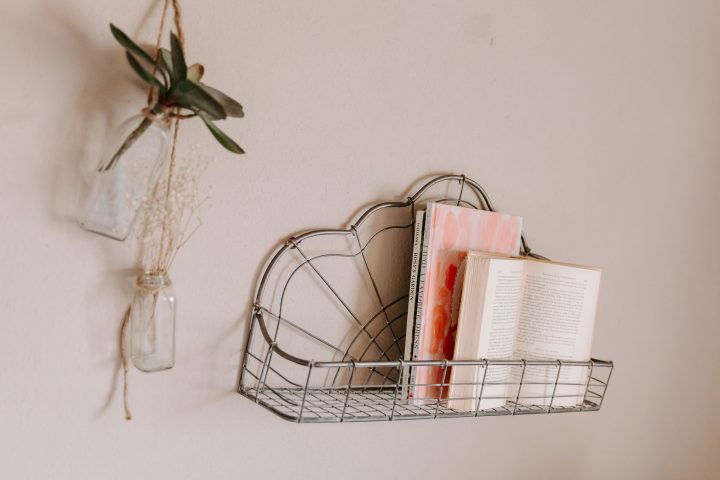 Her dresser is the first piece of thrifted furniture I ever purchased. It's not perfect and somehow we misplaced the bottom know in moving it from a different room, but it serves its purpose perfectly.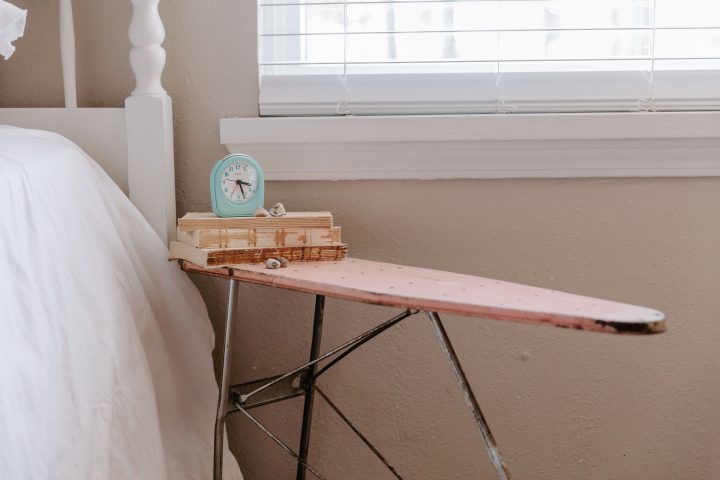 Next to her bed is this little vintage metal ironing board. I bought it out one day from a little shop in my home town from a sweet lady who is know a vendor at our barn sales. Ally has used it as her nightstand since the day I bought it.
Her favorite colors are coral and mint so we have picked up different pieces to work in her favorite colors over the years.
The little shells are from my trip to California. I brought her back some that I gathered at the beach and she wrapped them up and re gifted them to me for Christmas this year.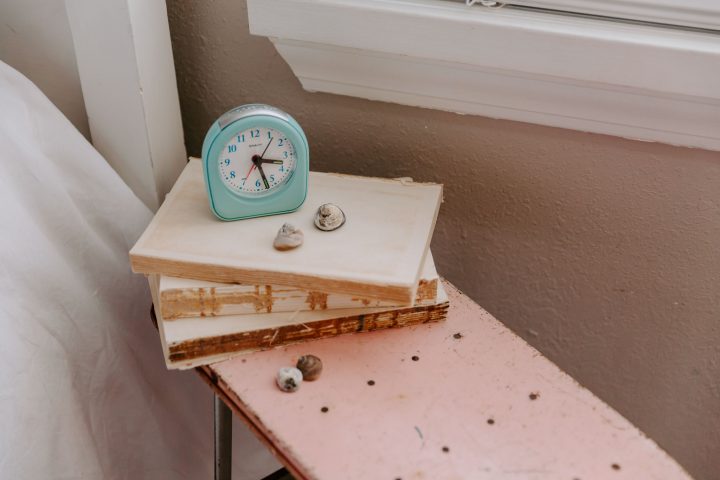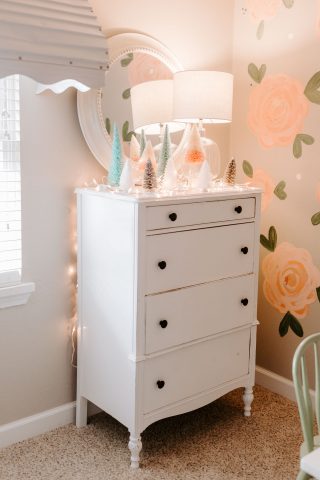 When she was smaller I would buy her a new bottle brush tree every year at Christmas time and add it to her collection. Now that her dresser is full I have quit buying them, but surprised her this year with a new big tree for her room.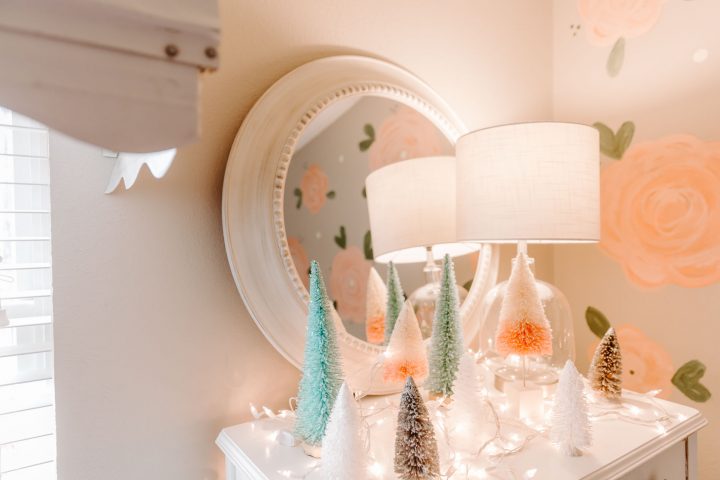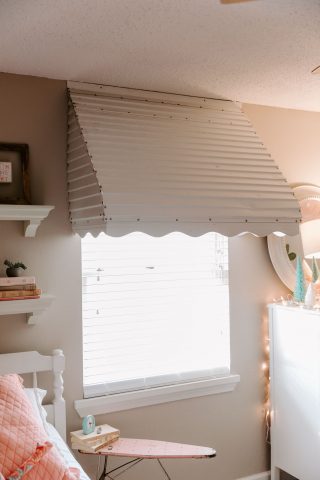 One of the other pieces in her room that I get the a lot of questions on is the awning above her window. I bought it from one of our vendors, A Gypsy's Dream and the plan all along was to put it in Ally's room. I don't really like curtains all that much unless they feel right for the room and I could never find any that I liked for  her room.
She has had the wooden blinds since she was a baby to help her sleep so a piece above her window to just add some interest was perfect.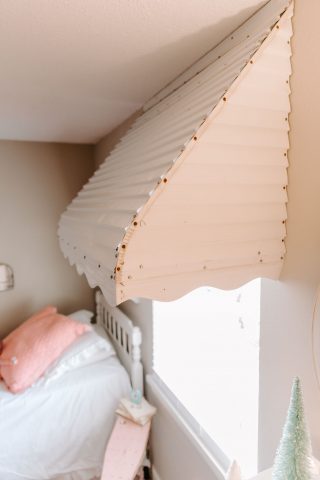 I love that scallop edge on her awning! Makes it the perfect fit for a little girl's room I think!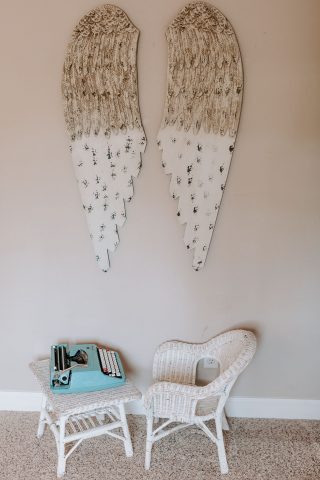 The little wicker table and chair was mine when I was little. I saw it at a furniture store shopping with my mom one day and conjured up a way to pay for it. It has a little couch too that goes with it.
The typewriter I bought her last year at our spring market from Mae Design Co. It still works and one of these days I am going to surprise her with a new tape for it.
The wings were a gift from her granny. I wanted to buy them for her room after her accident, but they were more than I could afford. They sold out and were restocked again coincidentally after we miscarried a sweet baby. I shared with my mother in law how much I wanted them and she surprised me with them for Ally's room the next week.
The most important thing I have learned to remember when working in your child's room is to remember their taste, interests, and likes. I love working with my kiddos in creating a space they love and genuinely enjoy being in.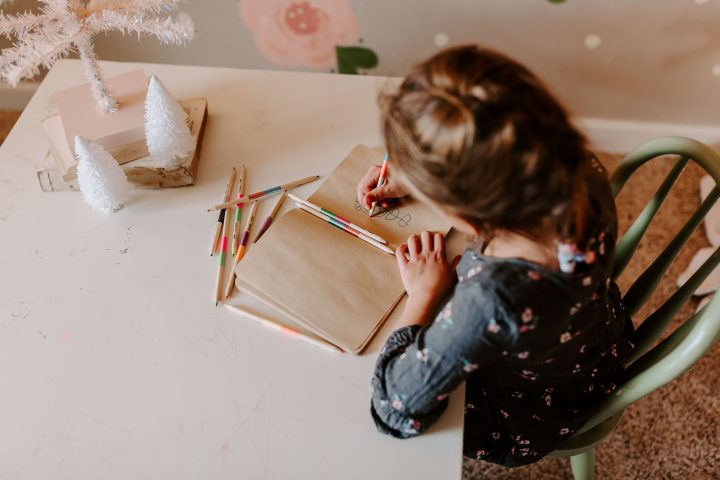 My oldest loves to collect turkey feathers. I would find them when I would clean his room and when they got really out of hand I would throw them away. I realized one day that they were important to him and that me throwing them away was hurting him. So, they now are proudly lined up in a row on the wall next to his bed. He loves them and I love them too because they are him and a part of what he loves right now. I believe every room in our home was meant to be pieced together over the years and not just bought all at one store, kids rooms included.
At the end of the day I hope their rooms are a place for them to be creative and a sweet place to rest, recharge and play.