Three years ago when we purchased the property where we host our markets I don't think Cameron or I either one anticipated how quickly we would outgrow 40 some acres.
Long story short, we made a deal when we bought the property that he wouldn't buy cows and I wouldn't host a market until we had the house rented. So we worked that entire summer getting the house around and by the end of the July we had a wonderful couple moving in. I hosted my very first barn sale the first weekend in August and the next weekend Cameron bought cows.
Fast forward to this past year. Little by little Cameron has grown his herd and little by little our market has grown and trying to keep pastures and grass and cows all in working order while parking hundreds of cars on them in the spring had become somewhat of a challenge. So Cam began renting several farms to have enough grass and to also be able to grow his herd size. We love the people that we have been able to rent from, but the farms are 45 minutes from home and once the kids were in school checking cows in the evening as a family was not an option. Cam is always keeping his eye open for ground to buy close to home, but if you know anything about purchasing you know that A.) land it is expensive and B.) it sells quickly. It seemed like any farm we looked at just wasn't quite right, but being spread out over the countryside wasn't something that was working either for our family so we were really hopeful that we could make a change.
And then two weeks before our fall market some land come up for sale not far from the barn. We went and looked right away and it was perfect. We made an offer, but in our hearts knew the only way to keep everything going was to let one of our properties go. Something you may not know about us, is we deeply care about each place we have been blessed to own. We love the house we live in, the barn property, the little house and now our farm. It was hard to let our home of seven years go, but we knew it was the right thing to do. Cameron knew of a couple looking for a property similar to ours and called them to tell them that we could potentially be moving if things went through with the farm. They came out and looked and within a couple of days told us that they would love to buy our home. The Saturday of our fall market they called us with the news that they had sold their house and we needed to be out of ours by the last week of October. (Cameron waited to tell me until the end of the day when the market was over. HA 🙂 )
Before I go any further with the story I feel like I should pause and share a little back story with y'all. In the past year I have been asked a lot about my business plan, how I got started and other business type questions. I love meeting women for coffee or lunch and hearing their ideas and offering what little bit of advice I have to offer. When I began I felt like I had to have it all figured out. Have a brand, a plan and all of those types of logistics in order. But my heart has changed a lot in the past couple of years and anytime I try to nail down a business plan the Lord always brings me back to: "Just Love People. Just share what you have with them and love them well any chance you can. " A big part of my heart knew that the barn house and property being our home place was the next step for our family and the market, but I wasn't sure how or when. So, when Cameron and I talked about selling our home I wasn't surprised that moving to the barn house was the next step for our family and our journey.
The day we closed on our home 7 years ago.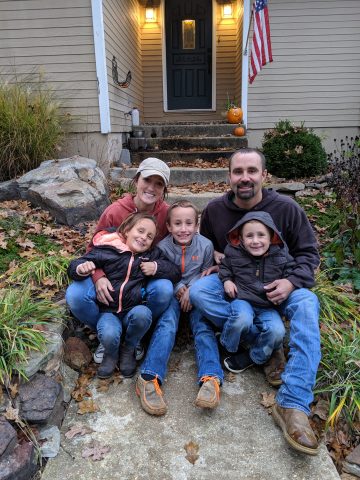 So, we moved out of our home of 7 years the last week in October and began renovating the barn house into a home that will work for our family in years to come. I haven't shared about this big change publicly until now simply because there are/were so many people involved. A lot of people moving and uprooting their lives including our sweet friends, Mr. Bruce and Ms. Kelly. They have rented the house since day 1 and telling them of our change was the hardest part of the whole process. They have been amazing "neighbors" as we call them. They have been so patient with us hosting markets in their backyard twice a year and we have walked through life with them for the past three years and have built a close friendship. But something I have learned in this whole process is, God doesn't just have a plan for one person. Sometimes your plan can encourage other people's plans to unfold as well. Mr. Bruce and Ms. Kelly found a place of their own to buy which was a huge dream for them since day one and we are so excited for them, and also thrilled that they aren't moving too far away.
Cameron and I both are so incredibly thankful to continue to receive opportunities to pursue our dreams. We can't tell you how excited we are to share our home and property again with y'all in 2020. Moving to the barn property allows us to makes some changes with layout and setup at the market that we have wanted to do for quite awhile. We look forward to taking y'all along with us on this journey and sharing what we have with you this next year.