I don't remember my grandma Watkins, but I really like her based on the stories my mom has shared with me about her.
One of my favorites is how when company would pop in for a visit she would whip up her Chinese Coffee cake or pull a Sara Lee pound cake out of the freezer for guests.
Now days people stopping by for coffee almost seems to be a thing of the past, but I still love the thought of it and I know that in our fast paced days most of us would welcome a cup of coffee and and piece of store bought pound cake or buttery coffee cake if offered.
I make my grandma's coffee cake a couple of times a year, but it's usually to go with dinner when we have breakfast for supper.
I hope you keep this recipe tucked in your cookbook and it encourages you to make a pot of coffee and gather around your table with someone you love and let time slow and savor something of the past we seem to have forgotten.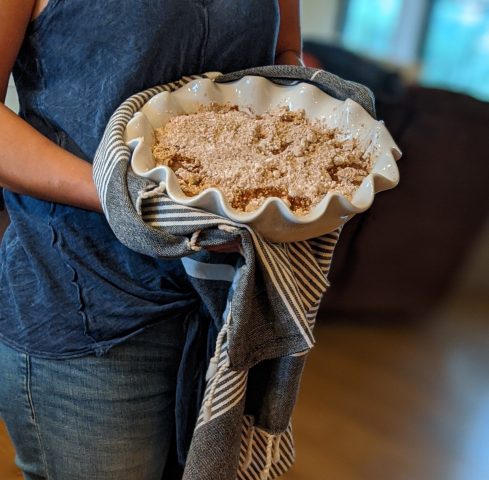 Chinese Coffee Cake
2 well beaten Eggs – add
1 cup of sugar – beat again
add 1 cup all purpose flour &
1 tsp baking powder
add 1/2 cup scalded milk
beat quickly and place in cake pan. The batter will be quite soft. Bake @ 350 for 20 minutes. As soon as it is finished baking spread generously with soft butter. Sprinkle with powdered sugar and cinnamon and pop bake in the oven until it is thoroughly melted.
** I typed the recipe just how my grandma wrote it. I typically use about a half a stick of butter for the topping. I substitute the eggs with egg replacer and gluten free flour for the flour and it turns out everytime!