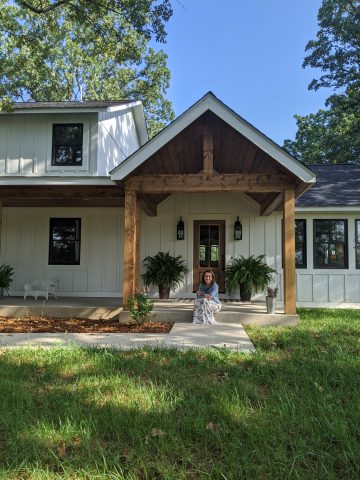 HI there and welcome to our home! A year ago we were fixin to embark on another adventure. We had no idea at this time a year ago we were going to be moving and renovating another house. We had just wrapped up a remodel at our Airbnb and a part of me was hoping for a bit of a break.
Funny how in a week's time everything can change. For those of you that are new here, we remodeled one of our rentals to become our home this past year after selling our home of seven years.
It feels a little uncomfortable to talk about our house and the changes we have made, but more than anything I hope we can offer some encouragement to people like us who are fixin to renovate their homes.
We learned the most lessons doing our Airbnb. This house seemed much easier even though we covered more ground as far as the renovation went.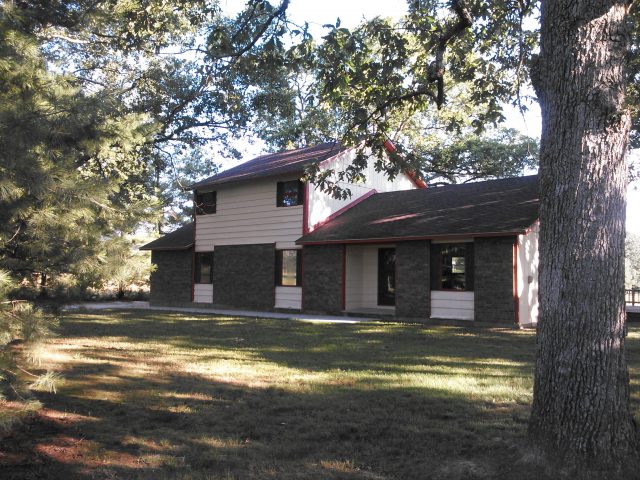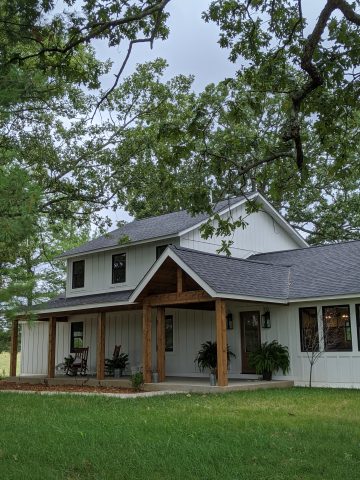 In this post I will cover questions we get on our exterior a lot and hopefully at some point we will get to the other parts of our home.
One of the biggest things I learned through this renovation was to get a rendering drawn up if you are going to do any major changes to your exterior. We added a lot of windows to this house and seeing them placed different spots really helped me get things finalized. We also added the front porch and working on changing roof pitches and pulling out gables isn't just a snap of your fingers (like I thought). So, if you are fixin to make big changes to the exterior like we did I suggest you work with a local architect on drawing up your plans. One slip up can literally change the whole finished product and the last thing you want is to not finish strong and love the outcome. Plus, if you are anything like me having a physical visual of what you want the house to look like is so helpful.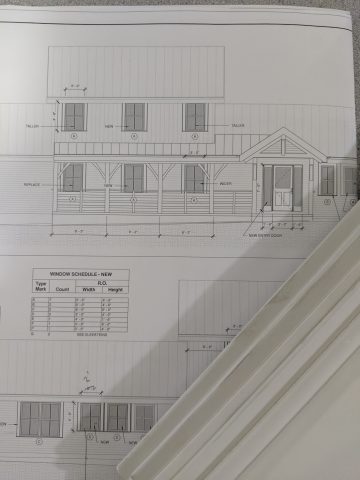 We did black windows. I will do another post on those because we get a lot of questions on them! I wasn't sure if I wanted to do them, but Cam really liked them and I am so glad we did. I really love them and they really add a lot of detail to all the white.
I almost didn't do a white house. White has always been my favorite and I think it is so classic and will never go out of style, but I struggled a little with doing white because of current trends. Seems like everyone is doing a white farmhouse and I wanted to make sure I wasn't just doing it because I was seeing it everywhere. I also love brick and Cam loves Texas limestone, but it didn't feel right for this house. Someday if we ever get the opportunity to build a home we have plans and brick or stone would work beautifully. I am so happy we went with white for this house.
Something else I recommend when renovating a home is trying to get a feel for the home. A white house fit perfectly with the feel of this house. It almost seems as if that is how the house should have looked all along. Now, if this house was in a subdivision and not on a small farm next to our barn I would have felt different.
After we received our rendering we began our renovation. I was so happy when they started tearing the old brick off the house.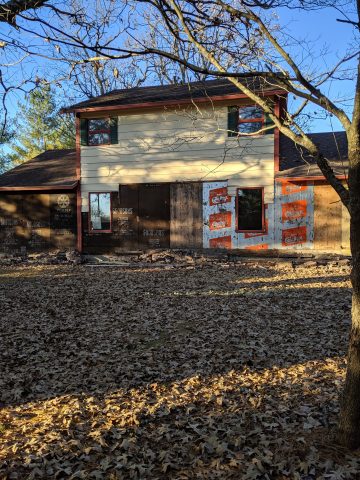 We decided to push out the front door and make it flush with the exterior wall. It made sense, I was trying to find space anywhere I could and those few feet made a huge difference.
We added a sidewalk off the porch as well. At this point in the renovation I was getting excited to see it come together but we still had a long ways to go. Renovations can be an emotional roller-coaster… especially if it is your home and you are trying to be in by Christmas. We lived in our Airbnb for a few months while we renovated and it was a special experience for our family, but we missed living in the country so much and we realized just how much we all thrive off having a home. It's a great passion of mine to help other mothers love and thrive in their home. Homes are about more than beauty. And while I think we all love a beautiful home; I have found that most mom's heart cry is to love their homes, but not in a toilsome way. In a way that frees them to enjoy it while serving their family. Anyway… back to the remodel more on that another time!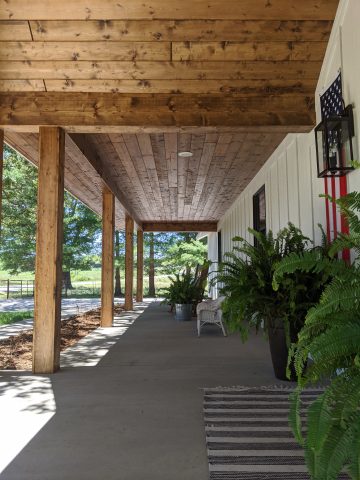 The porch is probably my favorite. I have always wanted a front porch and we spend a lot of time out here. I get asked a lot why I didn't do ceiling fans on our porch. I love the relaxed look a fan gives to a porch, but I also like low maintenance. I knew they would be one more thing to clean and there is always a breeze out here with all the trees.
Our post and ceiling are pine. One side of the boards is stained Minwax Provincial. I talked with our local paint store to make sure we bought a sealer that would hold up since this was exterior. We sealed all the boards on both sides to keep out moisture.
Our original plan was to do white oak for the post, but my brain hurt at this point and instead of trying to match stains on different types of woods I just decided to do pine for the post as well. With pine being a softer wood we were worried about it warping so our contractor blocked the post every so many inches so they are on there pretty tight. In a year or so I want to do an update for y'all on how everything is holding up. I know all the wood on the front porch is going to be a lot more maintenance, but I think it will be worth it.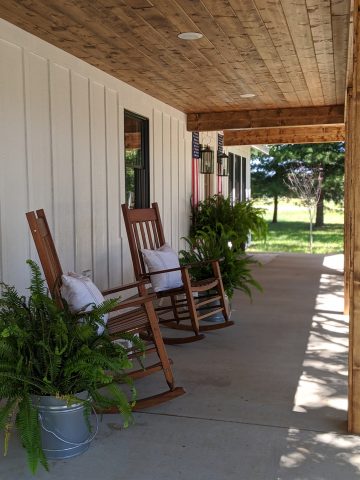 We did board and batten siding. I have loved it for so long and wanted to do it on our old house when we remodeled the exterior there (we never did before we moved). But it is more expensive. As we neared the end of our renovation we tossed around doing a less expensive option for siding, but I really wanted to do board and batten because of there being so much white, I didn't want our house to look too plain.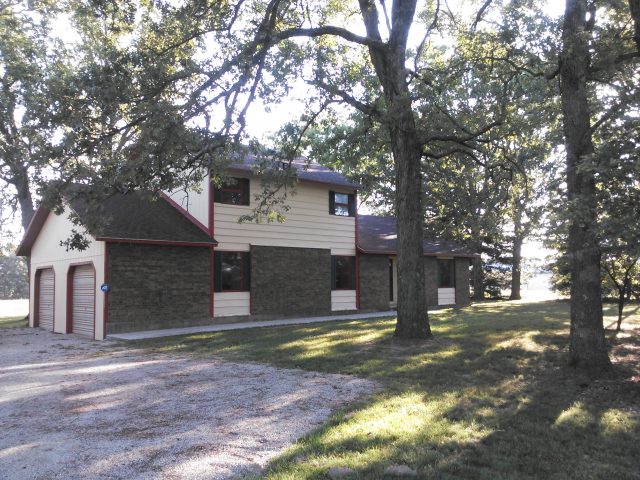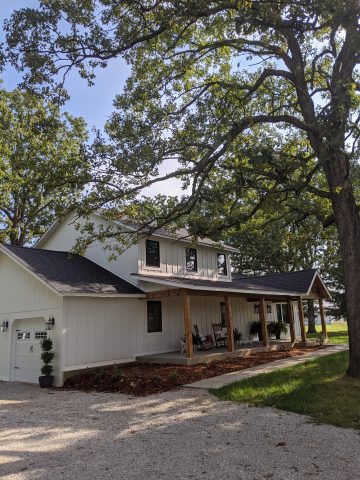 One thing we did to save money with the siding was we kept the existing siding on the sides of the house and had it painted to match the new board and batten. Unless we point it out people never even notice. Any siding that was weathered and needed to be replaced we did and then the entire house got new trim.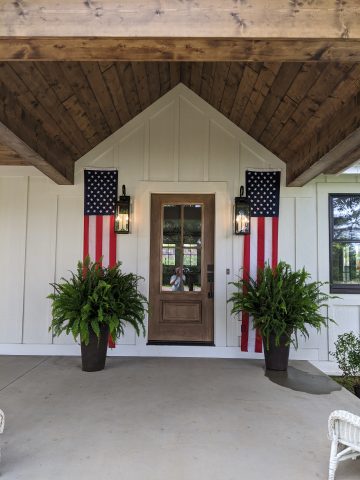 Cost wise there are a few things we let go of when renovating the exterior. I think that is something a lot of people or TV don't show. But there is always a budget and in our case we had to pick and chose what to let go of. The biggest was a standing seam metal roof. Cameron loves them, but they are so expensive so we let it go. Had we not done the wood ceiling int he porch I think it would have been neat to do standing seam on our porch roof so we could hear the rain hit it while we sit outside during a storm.
One of those most asked questions we get is where did we get our door. We purchased it from Becker Millwork in Freeburg, Missouri. It is stain-able fiberglass and we are 100 % happy with it. I would have loved to do a solid wood door, but that was one more thing I had to let go of. I am so happy with this door and never think a second about it not being wood.
The last question we get from time to time is did we renovate this home with plans to "flip it". The answer is no. Cam and I tend to fall in love with each property and home we buy. We loved our old house so much and truly didn't see ourselves moving for a long while. We love our Airbnb and when we buy something it isn't to fix it up and make a profit, our plan is to bring them back to life and their full potential. Our Airbnb is used to welcome people from all over and we love serving them through that little house. This house we renovated to be our home for as many years as God plans to have us here. It doesn't mean we don't have dreams that may take us to new places at some point, but for now we are settled and everything we did to this house was to make it our home for a long while.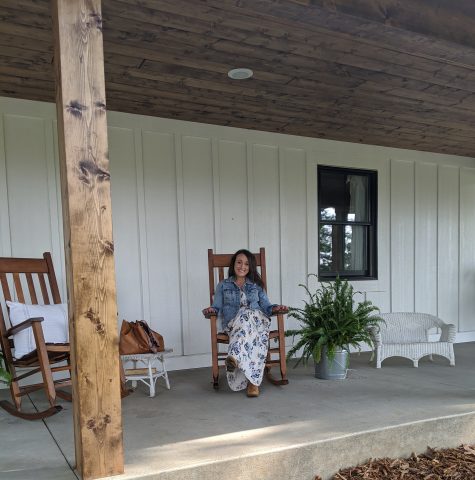 I hope you enjoyed this little peek into our renovation and it helps you if you are planning one of your own!