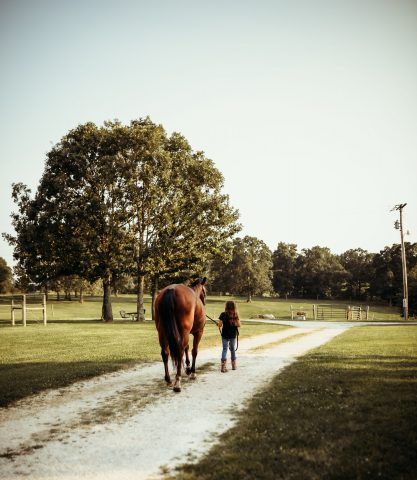 Almost exactly a year ago Ally started selling bracelets to buy a horse. She had been praying and asking for one for awhile, but right before Valentines Day she decided to starting earning her own money to buy a horse. Cameron made a deal with her, if she earned a certain amount he would pay for the rest. I think he underestimated her a little bit because she earned 4 times that in a week.
Fast forward to the spring and we began looking, but honestly we didnt know where to start. I signed her up for camp press the search. After driving around trying to find the right horse for her we finally borrowed one from my grandparents for her to take to camp.
When my uncle brought the horse out for Ally to meet for the first time I had that feeling that mom's get that this was the horse for Al. She immediately fell in love with the horse and the horse loved her right back.
We brought her to the neighbors barn where Ally had been taking riding lessons so they could get acquainted the week before camp. My grandparents told us that we could buy the horse for Ally after seeing how well they fit together. Ally named her Willow and they seemed like the perfect fit. Fast forward through camp and us buying her to a summer of fun and learning about horses. I have always been afraid of horses, but as it goes with motherhood you learn and do things you never planned on doing for your kids.
In October, shortly after our fall market Ally was working at the barn with Willow one day and a medical concern arose. I immediately called our vet and the next day Ally and I loaded her up and hauled her in for an examination. Her little heart was broken and my momma's heart was breaking for her. We drove in the rain with George Strait playing in the background and I am pretty sure my heart rode in the floorboard the entire way.
We had good news and bad news. Willow in her day had a lot of sweet babies. But with her last one she tore immensely and it caused some internal issues. Good news was, we didn't have to put her down. (yet)
We have worked with our vet on a switching feeds and different supplements to help her almost nineteen year old body feel her best. One of his suggestions was to bring her home. Up until that point we had been boarding her at the neighborhood horse facility while Ally learned more about riding and all things horse.
So we began preparing to bring her home and the last week Cameron and Ally did just that. We don't quite have everything set up the way we want it, but a system that works for now. She has a stall in the barn and a pen behind the house. Eventually we have a different building lined up for her, but it needs repairs.
I love watching Ally work with her out the window. She is a sweet horse and yesterday when I went out to the barn to check on her it seemed like she was always supposed to be there and be part of our life.
My heart broke for Al at the realization that this horse may not get be her horse for very long, but I was reminded last week that there are no accidents. And while we don't know how much time she has with Willow I am thankful that she has a horse that needs so much care. I think she will learn so much more by caring for something that is broken in some ways and we are grateful to give Willow the best life we know how to in the meantime. I never thought I would care so much about a horse, but sweet Willow has somehow wiggled a place into my heart that I never knew could be there.
So, in 2022 there will be one more animal on the farm when y'all visit. She is sweet and a wonderful addition the the Broken Oak.
I am so grateful our dear friend Emily with Emily Wassilak Photo captured these pics of Ally and Willow this summer. I know we will treasure them for a very long time.