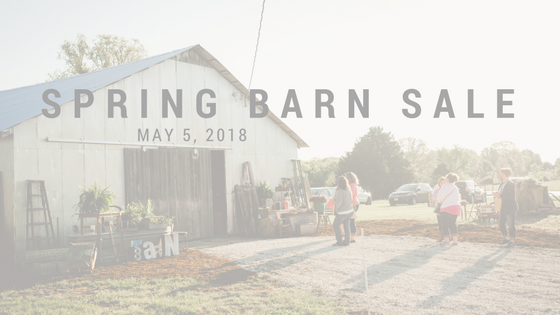 Once again this spring The Broken Oak's barn door will slide open and welcome guests for their second annual spring barn sale. You may be wondering what exactly is a barn sale and the best way to describe it is, a vintage and handmade market out of a barn.
Our owner and founder, Alyssa Schweiss was raised on a farm in Missouri with her three brothers. Her parents instilled hospitality in her heart as a young girl. Their home and farm was a "revolving door" as she puts it. She started to realize as she grew older that their farm was special and she admired how her parents always openly shared their gift of the country life with others.
It shouldn't have been a surprise when Alyssa wanted to start hosting a market out of she and her husband, Cameron's barn in 2016. What started as her and a few friends setting up a little sale in a few stalls of their barn has grown into an anticipated event with more than thirty vendors and thousands of shoppers each spring and fall.
Though the market has grown tremendously and at a progressive speed Alyssa's heart remains the same. To show hospitality and to give people a simple, peaceful day of shopping and fun on their little farm in central Missouri.
Vendors gather from all over the state bringing unique handmade goods and vintage finds. Live music, green grass and delicious food vendors help to set the tone along with a heart of hospitality that continues to flourish and grow right along with this unique market in Rolla, MO.
Details for the Broken Oak Spring Market:
Where: The Broken Oak. 15751 State Route F, Rolla Missouri
When: May 5th. gates open at 8 am and sale closes at 3 pm
What: A unique shopping experience located in the heart of Missouri. Vendors from all over the state will be showcasing unique handmade goods such as farmhouse tables, candles and more as well as pickers hauling in vintage finds, rusty junk and unique treasures for you and your home.
Admission is $4.00 a person, good for all day. Come as many times as you want. Children 12 and under are free. Parking is free.
What to bring? Wear boots or comfortable shoes and a hat or cap is always a good idea! We work hard to ensure the ground is in the best working order, but it is a farm so prepare accordingly.
Some vendors are cash only while others are happy to accept credit card payment. Be sure to measure your space for any large pieces you may be looking for.
Come hungry! We will have a A.M. Coffee and Donuts for your morning fuel and several yummy lunch options.
Directions are located on our website and more information about the Broken Oak can be found on our Facebook page: https://www.facebook.com/brokenoakbarn
For more questions or inquiries you can email us at:
contactbrokenoak@gmail.com
Here are some photos from past Barn Sales to get you inspired and excited for the spring barn sale!