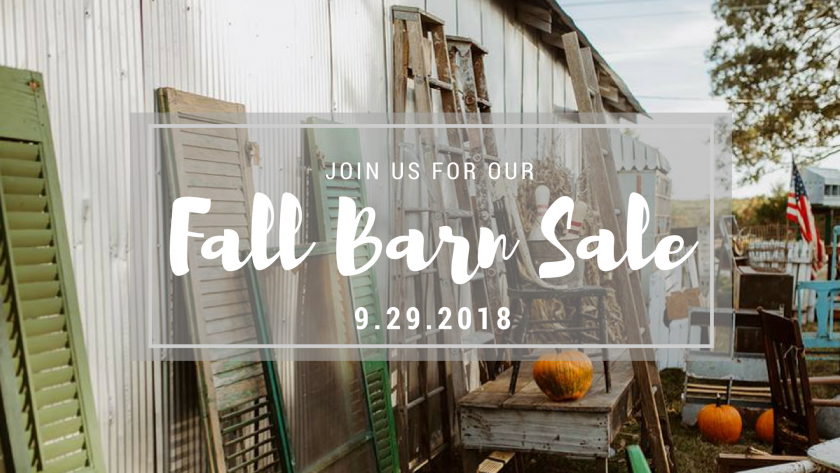 First, thank you so much for your interest in applying to be a vendor at our 2018 Fall Barn Sale at the Broken Oak! Our vendors are in so many ways the heart of our sale and we are incredibly thankful for them.
We truly wish we could approve everyone that applies, but unfortunately due limited space and our goal of providing shoppers with maximum diversity of merchandise, we simply cannot. We endeavor to make shopping at the barn a unique experience, so therefore we do not allow direct sales representatives.
If you applied previously and were not accepted, please do not be discouraged. Because we only allow a limited number of each type of product, it is possible that your particular category was simply full when you applied.
Above all, we encourage makers and pickers with kind hearts to apply to be a part of our event. We want each sale to be a pleasant experience for everyone involved, both vendors and shoppers alike!
PLEASE READ ALL OF THE DETAILS BELOW BEFORE FILLING OUT THE APPLICATION.
…………..
What we are looking for:
Vintage – Antique – Junk – Mid-Century Modern – Shabby Chic – Industrial – Architectural Salvage
We try to have a large variety of items, and not too many of any one type or style, to keep our market interesting and unique.
Refurbished items are very much a trend right now, but we have noticed that shoppers at our sale typically enjoy buying the vintage items and transforming them into their own creations.
Note:  Approved Vintage / Antique / Junk vendors are only allowed a small portion of their booth to be mass produced items or refurbished items.
………….
Unique Handmade Items (Including Art)
We prefer for handmade items at our market to be unique and different. Please take note that while we wish we could host every vendor that applies, we simply cannot, and typically only allow one handmade vendor of each type of item (i.e. one candle vendor, one soap vendor etc.).
…………
We only allow one vendor for each space. Your space should be a direct reflection of the category in which you applied, the type of items you listed for sale and the photos you shared on your application.
All submitted applications will be reviewed by the selection committee and those approved will be based on style, quality of merchandise, uniqueness, and booth display at the sole discretion of The Broken Oak Team. Submitting your application does not mean that you are approved. Vendors are required to abide by all Missouri State tax regulations.
Once applications are reviewed and vendors for the 2018 Fall Barn Sale are chosen, an email will go out to each accepted vendor with further instructions for the event.
We are no longer taking applications for our fall show! Thank you!