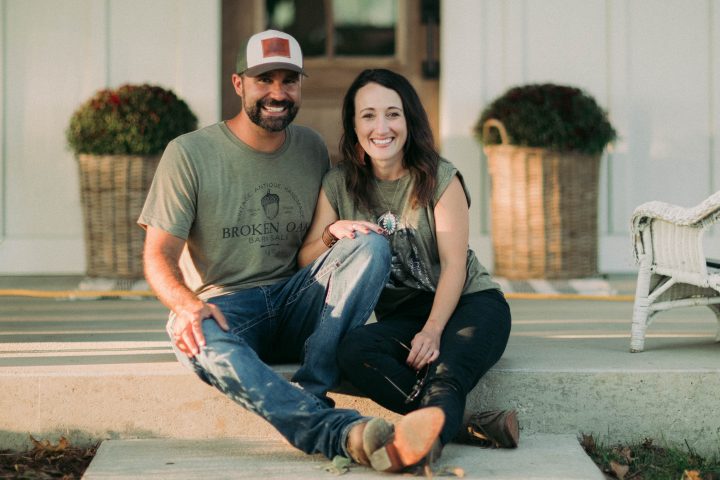 Hello and welcome to the farm! We are Cameron and Alyssa Schweiss… known as Cam and Lyss to close family and friends. Cam is an unlikely farmer and Lyss an unlikely entrepreneur and together we run the Broken Oak. The Broken Oak is many things but what it represents means the most to us. Here on our little 40 some acre farm in Missouri we raise cows, kids and a few cats and a dog. We are passionate about sharing what we have with others and each year we open our farm up for a one of a kind vintage and handmade market.
We clean out the barn. Turn the cow pasture into a parking lot, set up a band on our back deck and invite vendors and guests from all over to enjoy a day on this place we call home.
In 2021 we are adding farm dinners to our list of events here at the farm. About the time Lyss wanted to start a small business out of their home Cam wanted to buy cows and together these two dreams have grown and webbed together in a way like we never imagined. Farm dinners are a way for folks like you to come out, enjoy a beautiful evening here at the Broken Oak and enjoy some of our farm raised beef. Our first farm dinner will be this spring and it is going to be something you wont want to miss!
We care about sharing what we have with others. Maybe it's because Alyssa watched her parents share their farm her entire childhood or maybe it's because when we were first married we lived in Texas and experienced southern hospitality at it's finest. Maybe it's just how God knitted our hearts together through this dream. Either way we are honored you are here and we are thankful to get to do what we do.