As it goes, last week did not goes as planned.
On Tuesday my husband asked me to check the cows since it was so so cold. When I checked them I noticed one of our cows was off in the cedars and starting to show the beginning signs of calving.
I called Cam, my husband and asked him if he was suspecting anything out of her and he told me the year before she showed no sign and just popped up with a calf so he wouldn't be surprised if she was.
He got home a little later and low and behold, she had just had a beautiful little black baby calf. The problem was, it was getting dark and as fast as she cleaned it up it was freezing. (this was the night it dipped to -7) We tried everything we could do in the pasture and finally decided the best thing we could do for the little guy was to bring him home and get him warmed up. We dried him and warmed him and I ran my blow dryer for what seemed like an hour trying to get him dry.
That all helped, but the thing that helped him most was some colostrum my brother Blake gave us. If you don't know much about cows, colostrum needs to get in the calf very soon after birth to help it have any chance. Because we took the chance of taking him from his momma he didn't get any. He was too weak to stand to nurse anyway.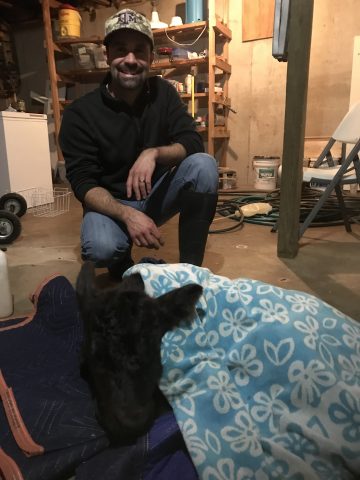 My brother Blake has Guernsey dairy cows and when his cow came fresh several months ago he saved the extra colostrum and froze it. It took awhile for it to thaw but the little calf took right to the bottle and you could tell it made a huge difference.
My favorite part of it all, was the kids. They were so excited as Cam and I worked with the little guy. They were taking pictures of me blow drying and warming him up. They named him Rider. And the next morning we woke up to the little guy bawling and looking all over for his momma in the basement (and making messes for me to clean up) HA!
Cam took him back to his momma and she took him right back and he went to eating right away. We were so thankful that it worked out this way and we were able to save him and that his momma took him so well.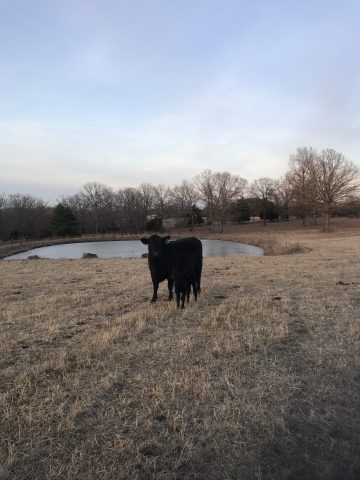 That was a week ago now and we currently have three little bull calves on the ground all healthy and we are so grateful!
Quite possible my favorite thing about having cows is seeing the little babies hit the ground! Every morning on the way to school, the kids and I count heads and watch the little guys buck around and play in the field.
Here is to another week full of surprises and adventures!