Hey Friends! I am so excited to be sharing the hardest working room in our home with you guys! Our Kitchen! Our Kitchen isn't tiny, but it isn't huge either! Remember last week when I shared our entry I told you I "felt" something when we walked in the house for the first time? The kitchen is what changed my mind more than any room. I loved the layout and the fact that it had natural light. I think a window over the kitchen sink is a deal breaker when looking at  home. We have a house plan picked out, we have had it picked out since we lived in Texas and one whole wall in my kitchen will be windows where the kitchen sink is.
Anyway… I thought it would be fun to share some before pictures this time! Here is our cute little kitchen when we bought the house. I originally planned on keeping all of the cabinets and painting them, but that big one in the corner had a huge foot in the room and the island was  a little too wide for the space. We were on a super tight budget so one of the things we cut was new appliances. Our dishwasher is from 2001 and we said that when one thing went out we would replace the appliances. Everything is still going strong 😉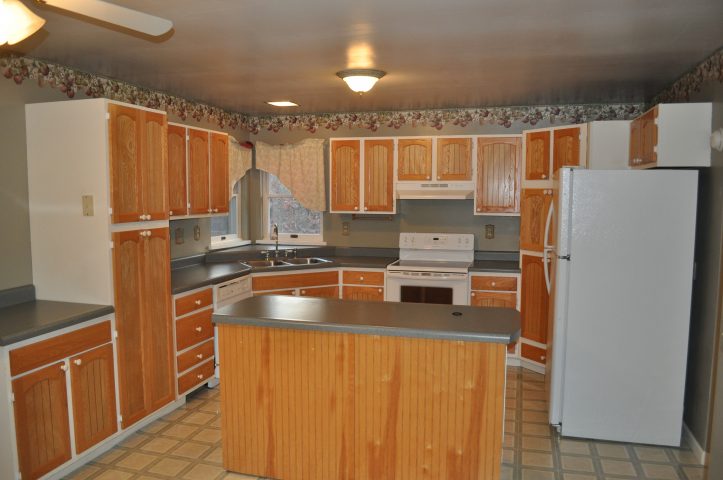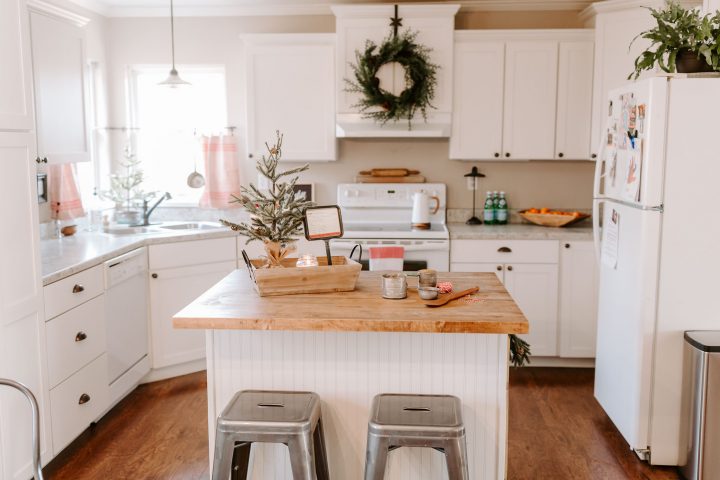 I shared last week that I had a folder of pictures on my desktop computer of houses I loved. Every kitchen I had  saved had white painted cabinets. When I wanted white cabinets I got some push back from family and the company we order them through. But I am so glad i persisted. Now white cabinets are everywhere, but at the time we had only one aunt who had a white kitchen. We went to visit her and they were very encouraging about their choice and six years later I can honestly say I love them so much!
Two things I wish I would have pushed harder for in our kitchen was butcher block counter tops on all the surfaces and a farmhouse sink. We only had a few weeks and I kept hitting road blocks on those two wishes and our Island had to be made special and shipped. Now, farmhouse sinks are a dime a dozen and butcher block is easier to come by. Either way we love our little kitchen and it serves our family well!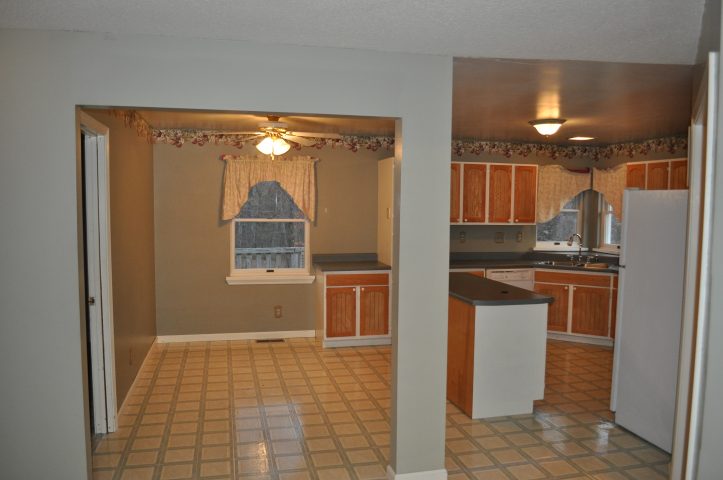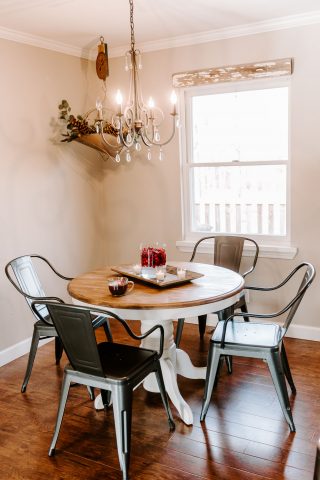 You may recognize some things from the barn 🙂 The little wooden bowl next to the sink was a gift from Christina with Rare Earth Wood Turning at our fall market. I use it to hold my rings and bracelets that I take off to do dishes.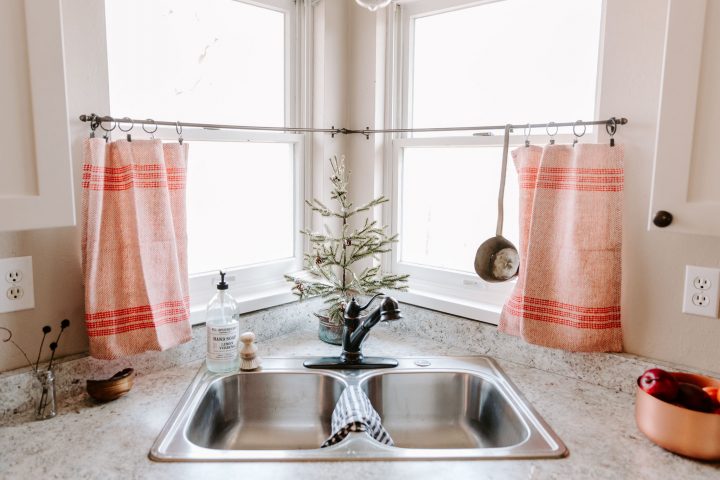 My kids eat a ton of fruit. I love to just have different bowls in different finishes out and add fruit to them. They double as decor and are easy access for them to grab. Apples, pomegranates and cranberries are my favorite natural fruits to have out right now.
The sign next my copper bowl of apples was a gift from or fall market from Mae Design Co.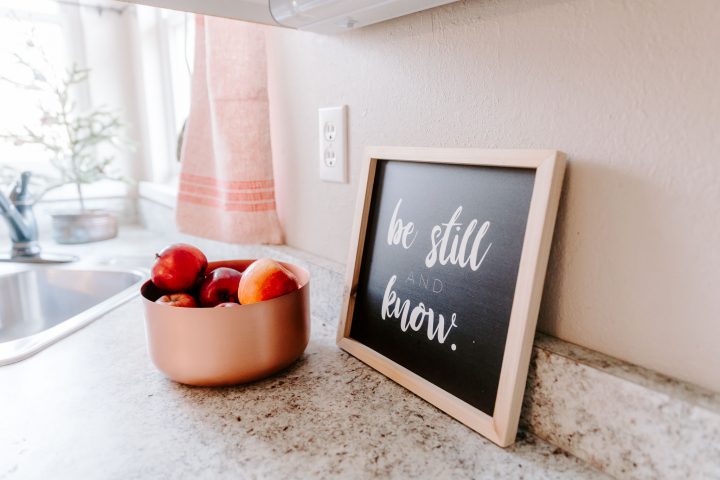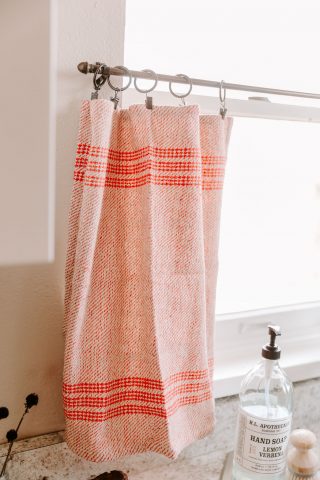 I like to change out the little cafe curtain by my sink a couple times a year. There is usually a black and white stripe one, but for Christmas I used this red grain sack .
These towels are available in our online store. And I love them…I think they would make beautiful pillows too if you would sew two together.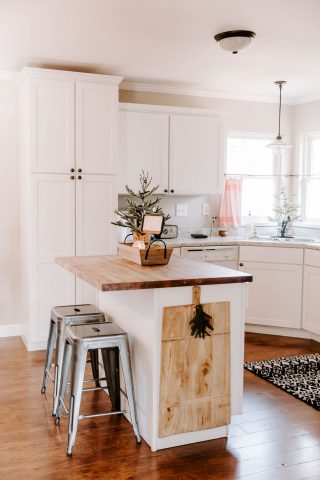 The wood cutting board on the side of our island is from
one of our vendors, The Little Brick House. She has all shapes
and sizes and I love how it breaks up all the white.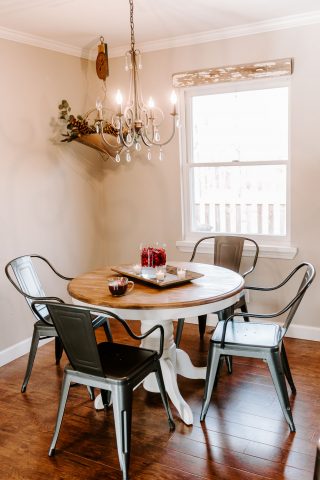 The scale hanging in the corner is from Tess with Vintage Unhinged. I love it in the corner. It adds interest and I change out what is in it each season. Right now it just has greenery and pine cones that should work through winter.
I, as much as the next girl love a pretty and clean home. I have spent years in the walls of our home serving our family and I wouldn't have it any other way. But sometimes pretty and practical don't always go hand in hand. I want our home to be a soft place to land for our kids and my husband when they get home each day. I also want to make sure I am doing my part to make sure that it is more than just a pretty place, it is a safe, life giving space for them to return to.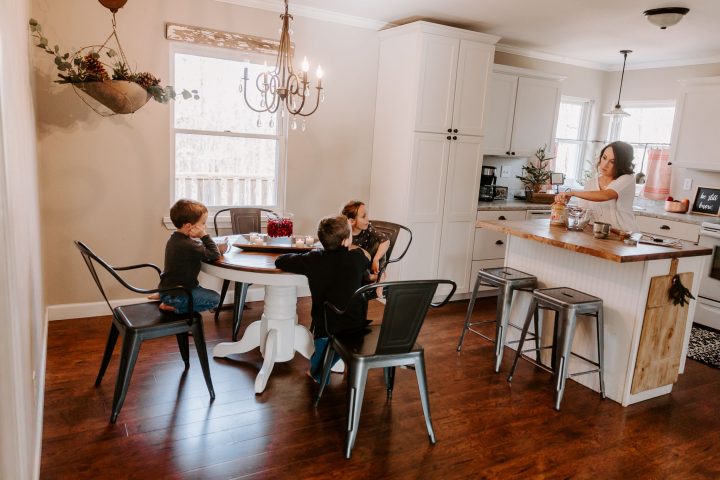 It has taken me years to figure out what works for our family and for me to stay inspired. I cook just about all of our  meals from home and one thing that I have learned is that i need surfaces pretty clean so I can have plenty of room to spread things out each time I prepare a meal. So, the bowls of fruit have been a great way for me to add practical beauty to our kitchen.
One thing that I have learned is to have my little displays like the one on the table and the bar on a tray or a basket. That way it is easy to lift the display and move it when it is time to spread out play-doh or make cookies at the bar. But at the end of the day when everyone is tucked in and the dishwasher is humming I light my candle on the table or bar and savor the goodness from the day and comforts that come with having and loving our home.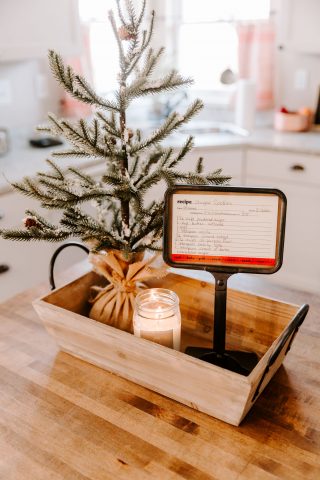 Another thing I like to do in our kitchen and our home is add surprising pieces for decoration. I framed my mom's Sugar cookie recipe to a frame on our bar because we make them every Christmas and it is one of my favorite memories as  a little girl. I believe homes should be more than just pretty things, they should tell a story.
(That candle is my favorite by the way. I LOVE IT. We have so many yummy Christmas candles on the website right now if you need one for your home this Christmas).
I hope you enjoyed the tour of or kitchen and you got some ideas for your own home and kitchen. What I love most about my kitchen is the little bare feet that gather around the table.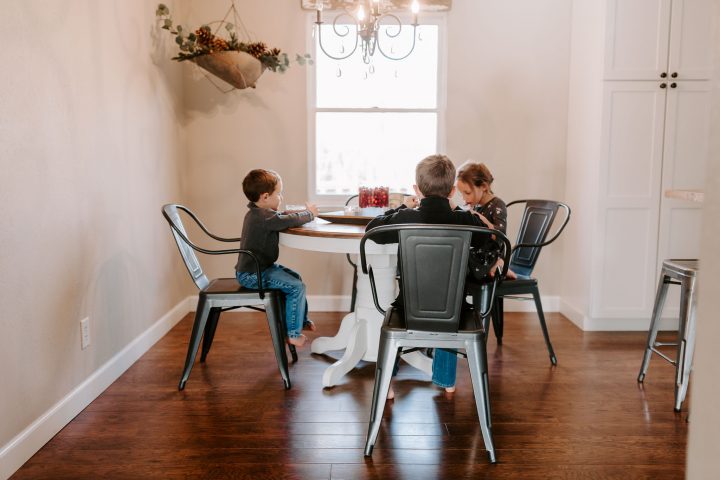 Next week we will head into one of my favorite rooms in our house! The dining room….