When we were first married I did not like cilantro, now it is one of my favorite herbs! We lived in Texas our first six years of marriage and I learned so much about peppers and salsa. Cameron loves hot food and now our little ones like salsa as well!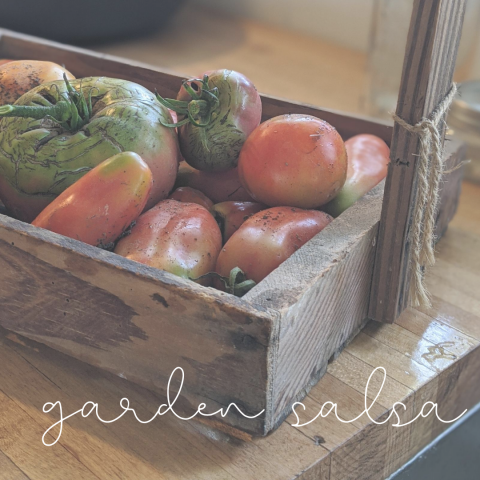 Ingredients:
5 Tomatoes ( I use paste tomatoes because we have a of them this year. You can also use Roma or any kind really. But the paste tomatoes hold shape lot better than a typical garden, eating tomato.
1 chopped, white onion
1 bunch of cilantro (chopped but no stems)
Juice of one lemon (sometimes I use 1 and half lemons if they aren't real juicy.)
3-5 Jalapenos ( Our peppers are small so I use five and I don't cut out the seeds, but if you don't like heat you can remove the seeds).
Chop all ingredients and mix in a bowl.
Add Salt (I prefer season salt), fresh pepper, garlic powder and cumin. I don't really measure, I just add a few shakes of each, stir and taste until it is just right.
The end! It's really easy! This recipe is more like a pico, if you want to throw it in a blender to make a smooth restaurant salsa you can. I have making big bunches of this, then cooking it down and canning it.
I made tacos to go with our salsa last week and took a picnic to the farm while Cam and the kids were working and it was a huge hit!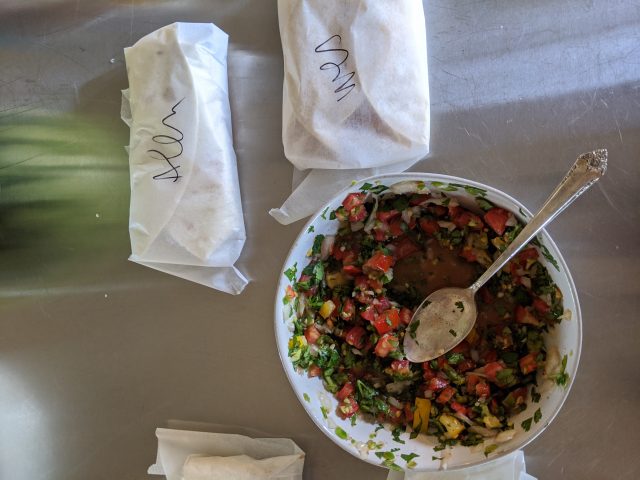 We are enjoying these long days while we can! School is starting just around the corner so eating picnics at the farm are going to end soon!