We bought this house six years ago after renting for the first five years of our marriage. Because of the nature of Cameron's job we moved every year to two years so we always rented. When we decided to move our little family back to Missouri we felt it was time to buy our first home.
It was way harder than we anticipated. We wanted to be in the country and couldn't find just the right place (for the right price). Just about when we were ready to give up we got a phone call one evening that someone knew of a house for sale in the country.
We immediately drove out and as we pulled up to the detached two car garage and deer scampered off into the woods my heart sank. Because of the garage and deer Cameron just knew this was the one. Me on the other hand had painted a totally different picture in my mind of how I thought this house would lay out and I just didn't like it.
We weren't able to go inside but I completely wrote it off and Cam thought I was crazy. Truth is, my heart wasn't in the greatest place when we were looking and I look back now and smile at how everything worked out. Goodness  am ever I thankful for grace.
Long story short we came back and looked at the house again and I "felt" something when we walked inside. I knew it was the house for us.
Cameron was worried after me not liking it at first. The deal breaker was he had to let me redo some things. I wanted to make it our own. It was just fine the way it was and really clean, but somewhere on the desktop of my computer I had saved picture after picture of houses that I loved and I had hopes of making this house into what I had dreamed and saved.
We were able to close really quick and remodeled the entire house in four weeks. Looking back we were crazy. We had a one year old and two (almost three) year old, Cameron was just starting his new job and it was November. So yes, we moved in a week before Christmas after we all had a bad round of the stomach flu.
We love this little house so much. There has been so many memories and life made here and we honestly can't imagine leaving. People ask if we are going to add on or move someday and we honestly don't plan to, but now that I said that out loud who knows what will happen!
There are things we still want to do to the house, our next big project is the exterior. And of course there are things I wish I would have done different when we remodeled. But our little house serves us well and I am so humbled and grateful to invite y'all in for the next several weeks for a little tour.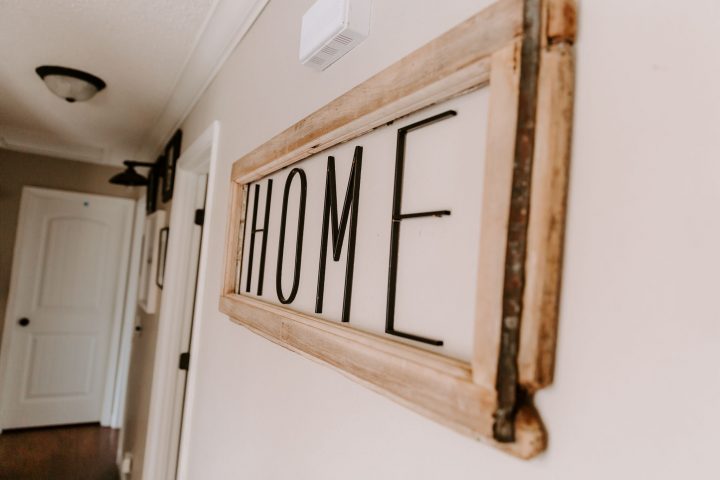 I couldn't think of a better way to start the home tour than to begin with our entry so here she is! It is such a tiny space. When we first moved in I was always trying a bench or table here, but it collected clutter and was always too bulky for the narrow entry way.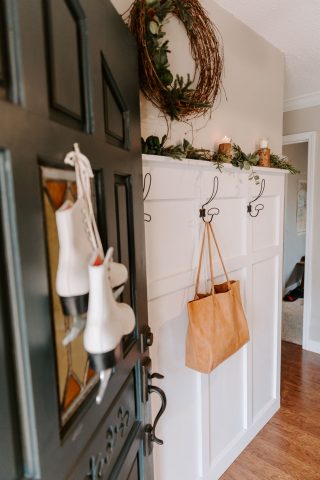 So, Last year about this time I decided to do the board and batten wall. I liked the idea of hooks to corral coats and bags as we came in and it has worked really well for the past year. It took me several nap times and some sweet help from our friend and neighbor, Mr. Tony to pull it off. He helped me measure so I could buy the right boards and then I got everything ready and painted and he came back with his saw and nail gun and helped me attach it all.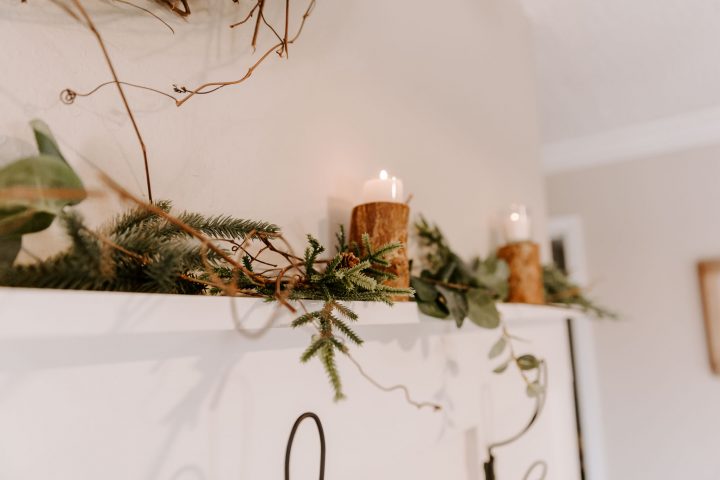 The first thing you see when you walk in right now is this sweet little sled and Christmas set up. I bought the sled this summer in hopes of having a Christmas sale and using it for display.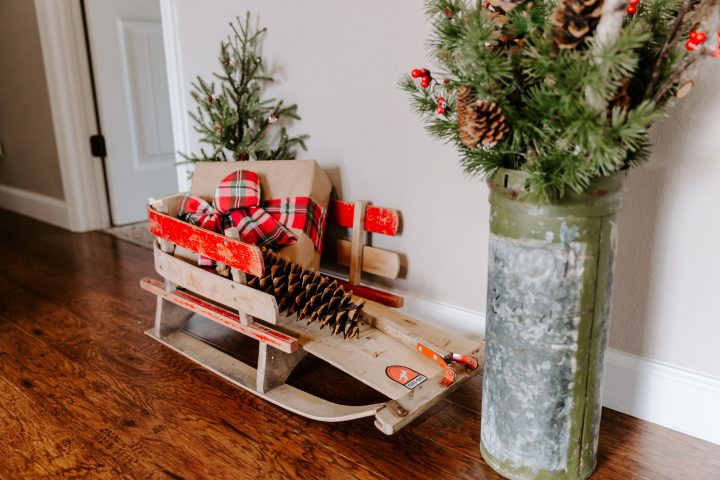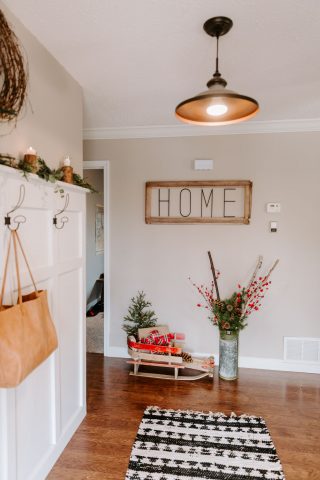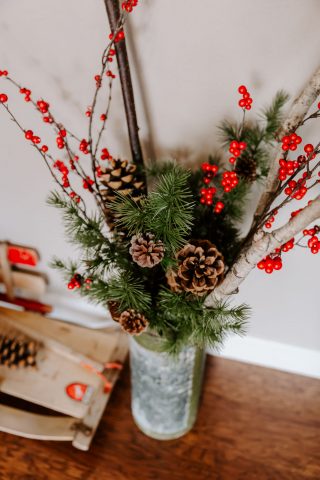 I like the stained glass on our door, but we have been saving up for a new one. I have had it picked it for over three years! We want to add something that lets in more natural light since the space is tiny and a bit dark.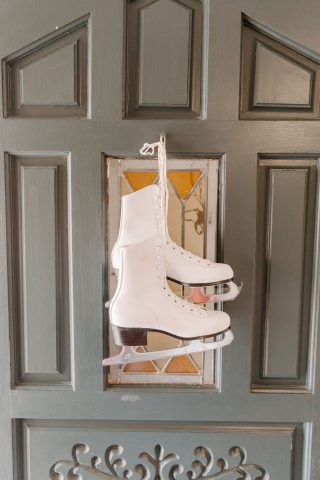 The ice skates are one of the "found" items for the online store! I hung them there so Holly could photograph them for the shop. I have been saving them for so long and I can't wait for one of you to make them your own.
Another thing we want to swap out is the light. It cast a shadow and this small space needs light!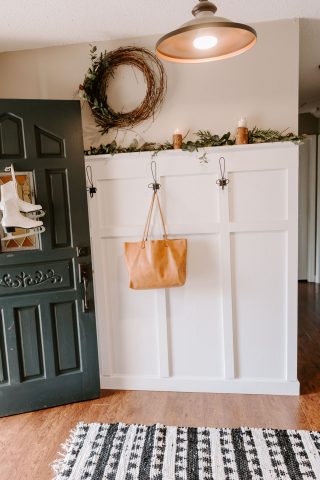 And there you have it! The entrance to our home in all her tiny glory! I hope you enjoyed the first bit of the home tour! I will be sharing more the rest of the month. Next we will scoot down the hall to our kitchen.