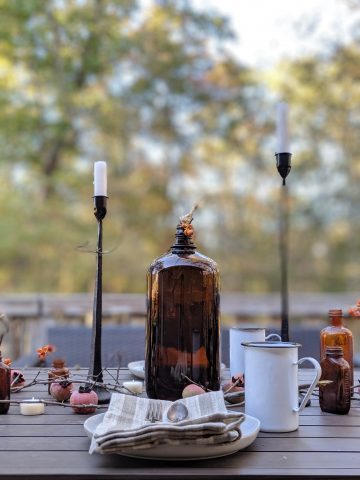 A few weeks back Cameron was out of town for work one evening so I decided to play around with the items from our fall barn box! It is important to me that when I put a box together that the items are something I truly love and would use in my own home.
Our fall box came together pretty last minute. I typically spend hours putting them together and making sure each piece works. Our fall box is one of my favorites because it came together so easily and the items all worked really well together.
We spend a lot of time out on our deck when the weather is nice, so while the kids played I worked on setting the table using items from our fall box.
Each box had an amber jar in it! Some were old and small and some were new and big. I have been collecting them for awhile and I love using the large and small together! I learned in our summer box when I shared one of my vintage books with each of you that you love a little something old from me!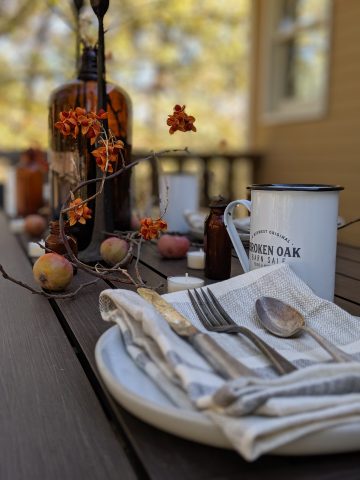 Each local box was tied up with a persimmon branch. When we were cleaning up from our fall market I noticed a persimmon tree in the parking field and loved the pinky/orange shade of the fruits so I cut several branches to tie on top of our local boxes. The shipped boxes each had a bittersweet stem in their jars so each box had some type of natural element you could use in your decor this season.
I absolutely loved the linen napkins we included in our fall box! I love the idea of slowing down and enjoying an intentional meal this time of year with the ones we love. If that isn't something you would enjoy the napkins would make beautiful pillows too by simply stitching them together!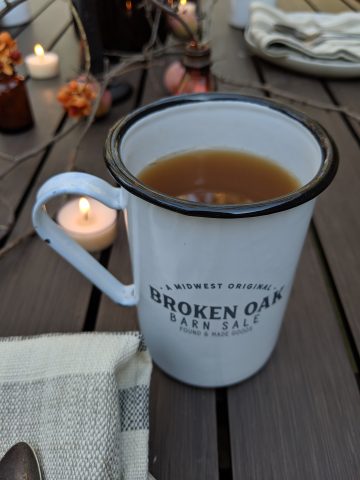 Each box included one of our enamel mugs and a box of cider mixin's from one of our vendors, Red Door Gifts. My kids love cider so I went ahead and made a pot of cider using the spices and set each spot with a mug.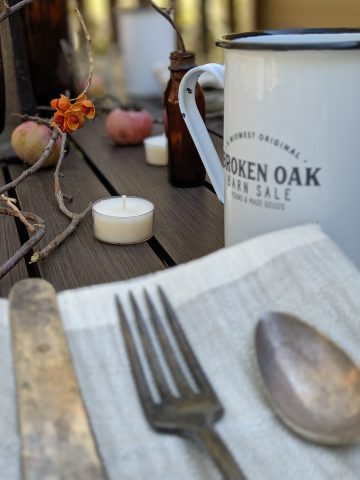 I couldn't do a fall box and not include a candle! This time of year, for me its all about being cozy. When I saw the pumpkin scented tealights out shopping with my mom I knew they would be perfect for our fall box! You could use them on a table, luminaries or even inside your jack 'o lantern.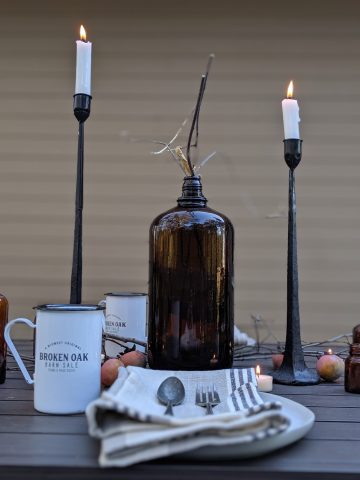 Our fall box also included a cozy throw. Which was perfect for covering up once the sun went down.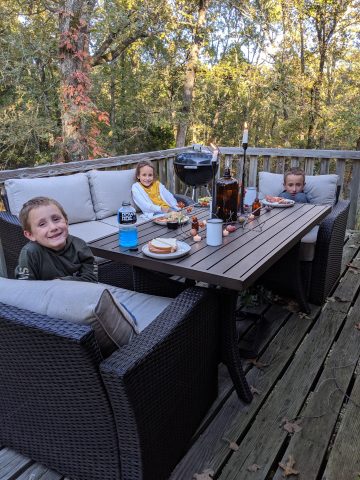 The kids were mostly excited about the cider when I invited them outside for dinner. As the sun went down and we chatted about their day and it was so cozy with the flicker of the candles.
It was the perfect way to end the day, complete with fancy pizza 🙂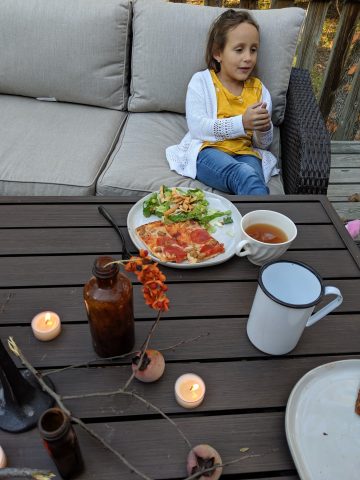 With thanksgiving fast approaching I hope this inspires you and gives you some ideas for setting your own table.
Here are some of my favorite tips and tricks for setting a pretty table:
Shop your house first! Use what you have on hand before you purchase things you may only use once.
Gather natural elements from the yard. This time of year is a great time to find acorns, crunchy leaves, sticks and berries! All of these items real bring a lot of texture and interest to your table.
Layer. Use different heights and sizes. For example I have many different size amber jars as well as candle options. The black iron ones make a statement and the scattered tea lights fill in extra space.
Include the little ones! Kids make everything more fun and I love to include them on in as many ways as I can
Enjoy the season friends! I hope you gather the ones you treasure most around your table this Thanksgiving and find your hearts full of gratitude!