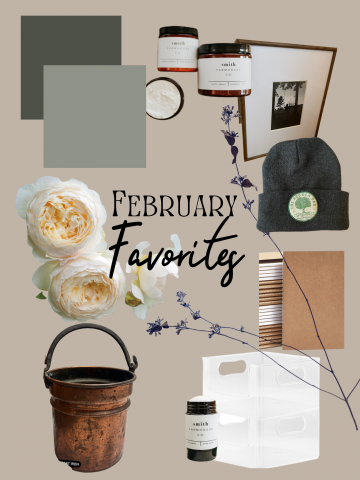 February flew by, but it was a great month for knocking out some projects! After painting and re-painting our master bedroom and the kids bathroom I finally settled on two colors that I love!
The accent wall in our master is Sherwin Williams, Shade Grown (the darker green).
I have painted the kids vanity three times since we moved in! I painted their bead board, trim and vanity Sherwin Williams : Farm to Table and I think we finally have a winner! I love it and it is a great light green for a kitchen or bathroom.
We wrapped up February with a family ski trip to New Mexico and my hands, face and lips. My Smith Farmhouse Co. body butter, scrub and lip balm have been in constant use! They are a must through the winter and I can't believe I am almost out of all 3 of them!
This frame with one of my favorite pictures of Ally printed in black and white makes my heart so happy! It has a great wood frame and the white, wide mat makes any pic feel like a piece of art.
If you read my newsletter you know that I have been gathering dead weeds on walks and trips to the farm with Cam, HA! It has been one of my favorite ways to add a little texture this past month. I like to look at it like a little treasure left over from summer!
Broken Oak Stocking Cap – February brought our first big snow and each person in the family has their favorite TBO stocking cap on rotation! We had them made for our Christmas Market, but it has been so mild up until now that we didn't get to try them out!
I want to add some roses to the farm this year so I signed up to receive a catalogue from David Austin Roses. I received it in the mail this month and I love looking through it and planning out where and what we will be adding!
Copper Bucket from Sylah B Reloved. She has the best little second hand online shop. I bought the kids some used chore coats this month as well as this copper bucket! I originally thought I would use it by the stove for my wooden spoons, but it hasn't found it's final home just yet!
Home Edit organizers. Along with painting the bathrooms I have been organizing as well. These stackable bins have been awesome. I bought two for the kids bathroom and two for under our sink. I also grabbed two of these for under the kitchen sink and above the washer and dryer. They may be my new favorite, no knocking over bottles looking for a specific one!
I hope you enjoyed a peek into some of my favorite things from February. I would love to for you to leave some of your favorite things in the comments below.
Cheers to a new month!