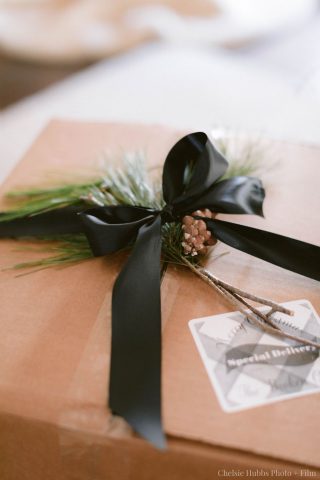 This Summer officially marked the one year Birthday for our barn boxes! For awhile I had a dream to put together seasonal boxes using items made or found by our vendors that we could ship all over the country.
I am so glad that I finally took the plunge last year. These boxes are definitely a labor of love and take hours and hours to put together, but all the details that go into each one is what I love!
Our final box for the year is our Christmas box and I wanted to include items that would transition well into winter, but also be fun to use during Christmas time.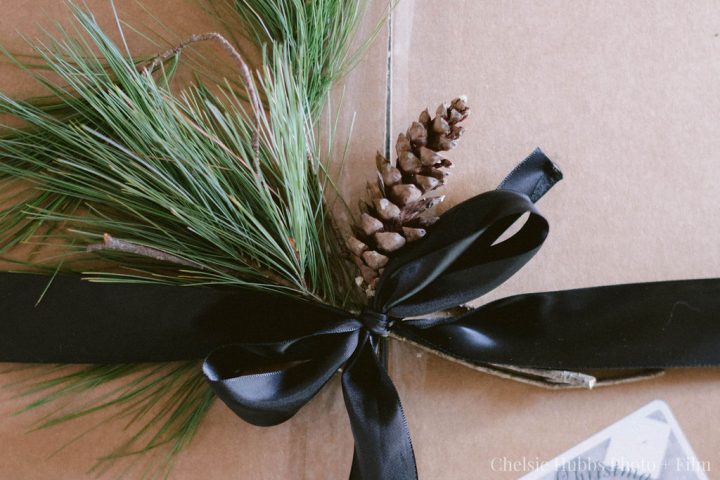 I am so grateful that Chelsie with Chelsie Hubbs Photography sent these amazing photos of the barn box items in her beautiful home.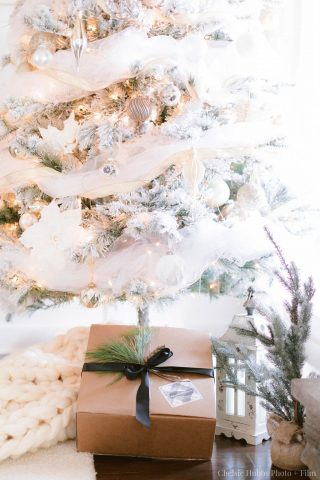 Each item is carefully selected and pieces that I would love to use in my own home. We love collaborating with our vendors from the barn.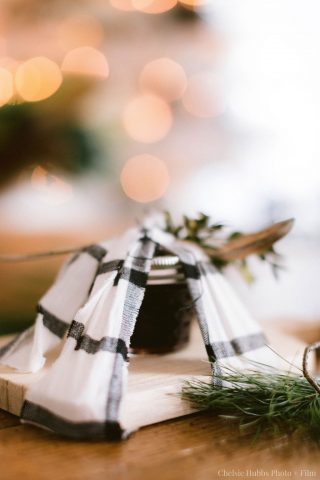 This particular box had some homemade jelly from Paige with El's Kitchen. Her jelly is a HUGE hit at the barn and it is the perfect thing to have on hand at the holidays.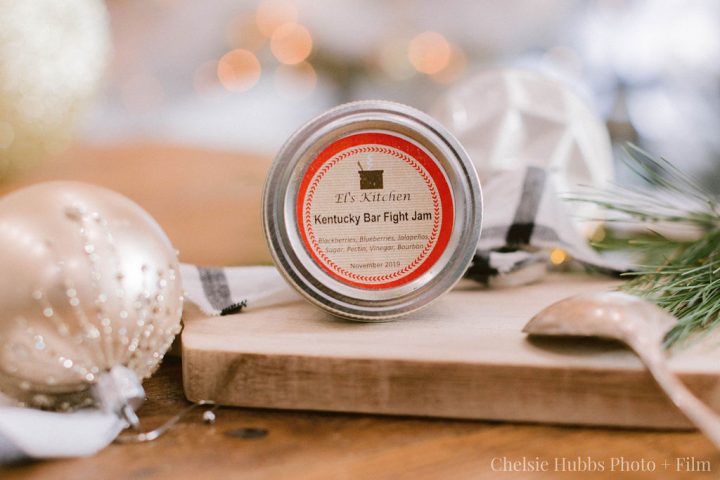 I tied each jelly to a wood bread board with fabric and garnished each one with a piece of old silverware and snip of boxwood.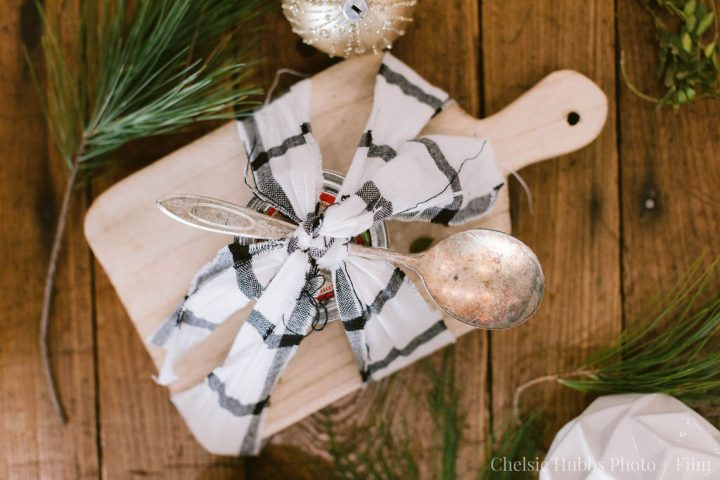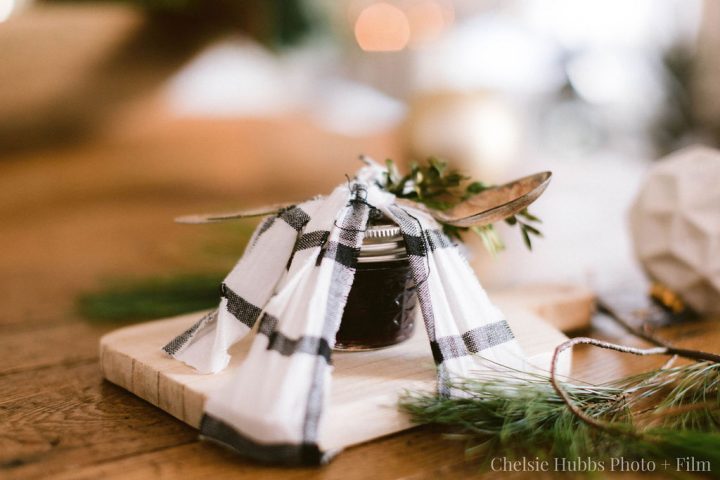 Another item that we included in the Christmas/Winter box this year was a pillow made by Nicole with Coleyanne Handcrafted.
Her pillows were a HUGE hit at our fall market and as soon as I saw them I knew I wanted them to be the large item in our box this season. I love that they work well with any style and are neutral enough to use all winter long.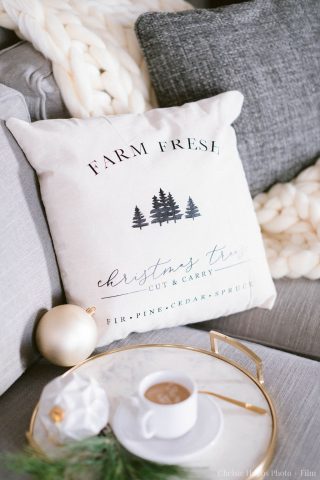 The pillow inspired our color scheme for the box. In 2018 our box was full of cheery reds, but this year I decided to go with a more classic look and use black and whites and touches of green.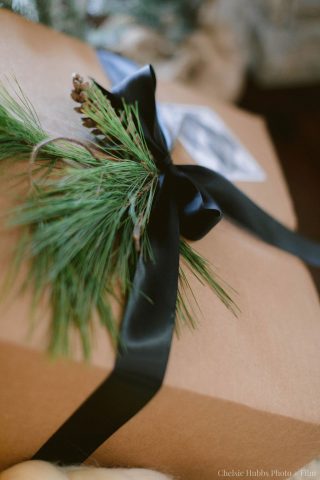 It has been so fun hearing from y'all the past few weeks about how much you love your box, especially the tin bell.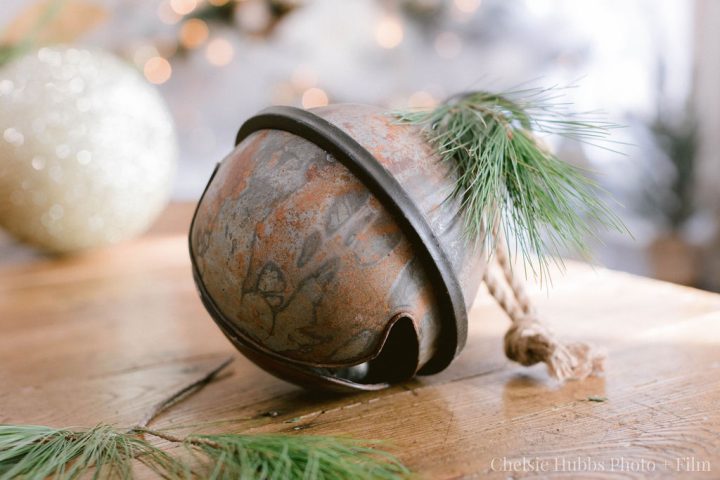 Each time I put a box together I never know what will be everyone's favorite piece! This year we have received the most messages from y'all about how much you loved the bell!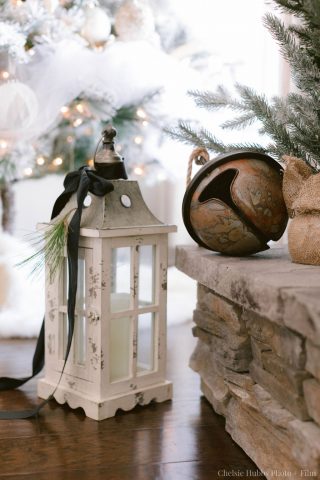 I love that it is such a classic piece and is something that won't go out of style or change with trends. The rope detail on the handle makes it super versatile. You can hang it, nestle it into a planter full of snipped greens or simply let it be a statement piece like Chelsea did above.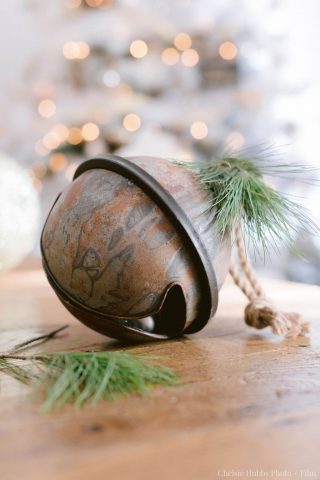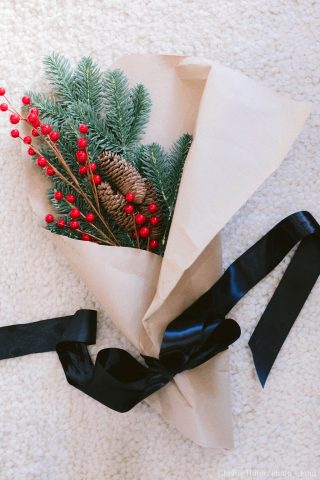 Next up is the berry sprig and the evergreen sprig with pine cones. I love using natural elements in my decorating and I searched high and low for artificial greenery that looks and feels real.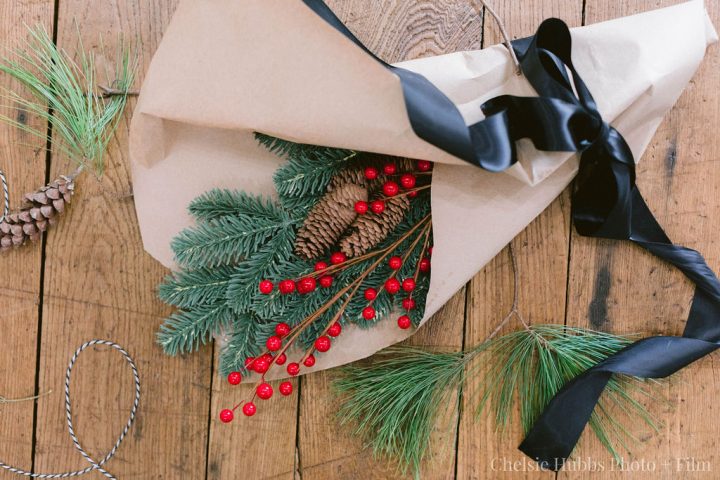 My hope is that each item in the box gets you excited to decorate your home for the season. I love seeing your photos of how you use each piece. The holiday stems tucked into Chelsie's stocking is so pretty and the perfect pop of color amidst the whites!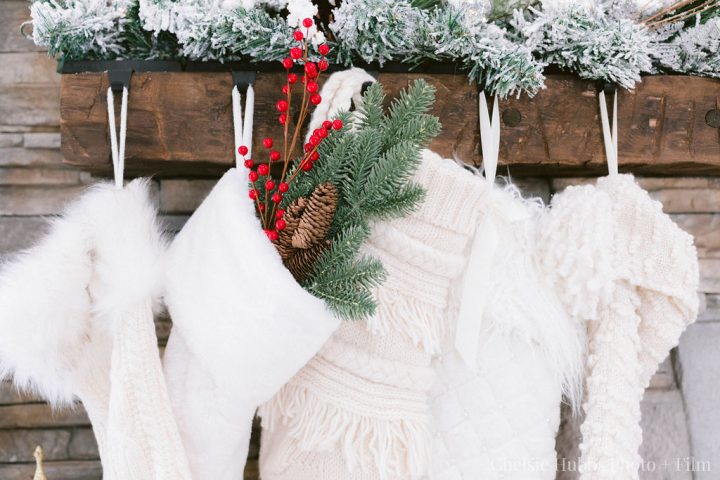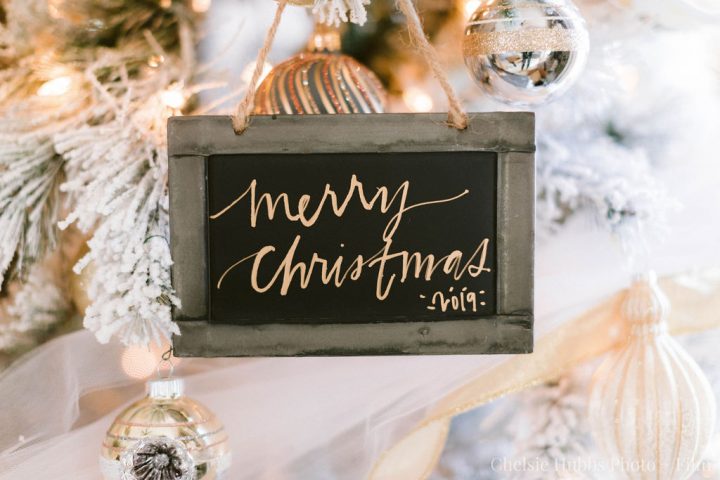 The last and final piece that was included in each box was this little zinc chalkboard ornament.
I wanted to include something specifically from me so I hand lettered Merry Christmas on each one. My hands and back hurt so bad after lettering dozens and dozens of them, but I love how they turned out and they were the perfect final touch to add as we sealed up each box.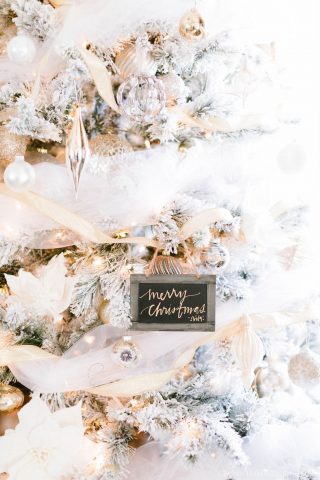 Thank y'all so much for letting us be a part of your home this year and this season. It truly brings me joy to put our boxes together and to see and hear how much you love the items and enjoy using them in your home.
Our Christmas Barn Box included:
Handmade Pillow by Coleyanne Handcrafted
Kentucky Bar fight Jelly by El's Kitchen
Wooden Breadboard
Tin Jingle Bell
Everygreen Sprig
Berry Sprig
Hand Lettered Merry Christmas Ornament
We loved seeing how y'all use all the extra bits and pieces used in your box like the silk ribbon, fabric scrap, fresh cut pine, pine cones and black and white twine.
Chelsie tied her black silk ribbon on her white lantern and I love how classic and timeless it looks.
Here are a few more pictures Chelsie shared that I wanted include because I love them so much 🙂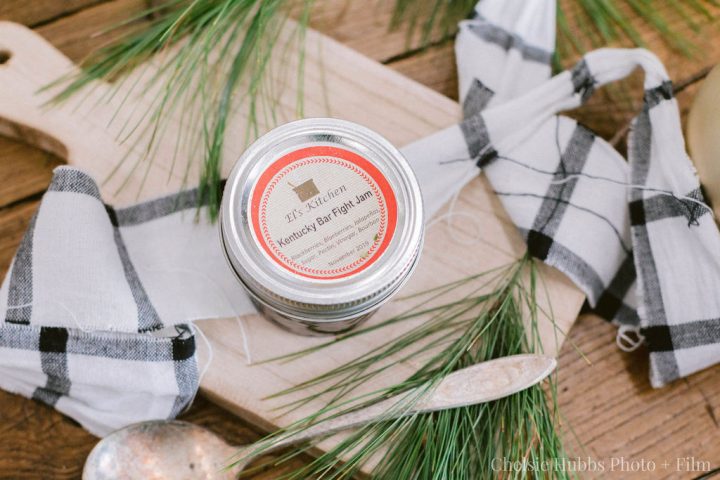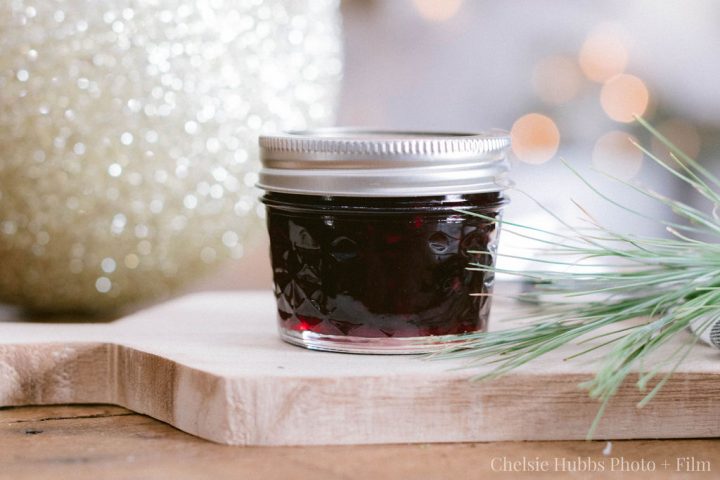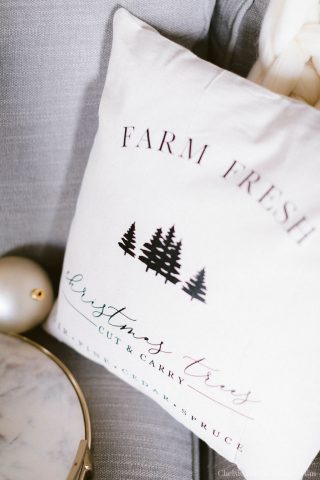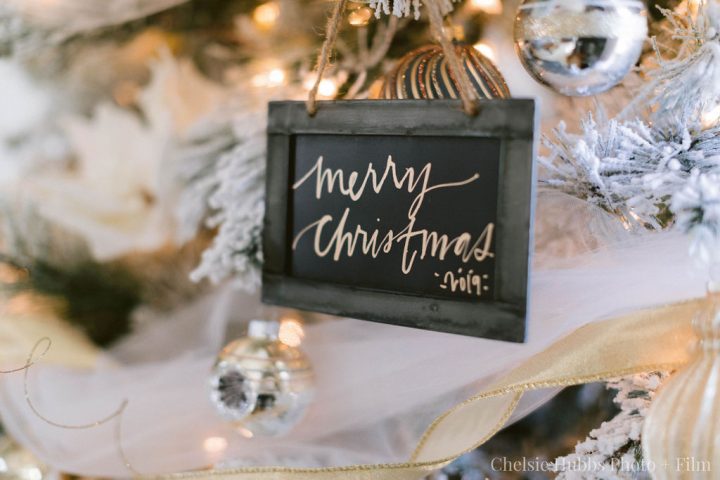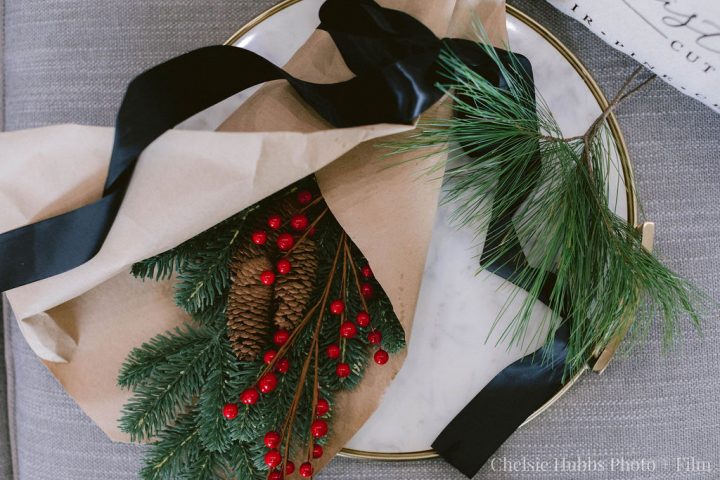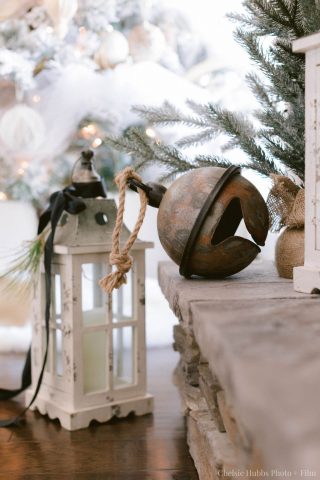 Thank you to everyone who purchased one of our Christmas/Winter barn boxes this year! We are so thankful for each one of you and your continued support each time we put a box together!
And a special Thank YOU to Chelsie for these beautiful pictures!
Merry Christmas Everyone!!